Merseyside Police officer Dave Phillips has been honoured in a moving ceremony in Hamilton Square, Birkenhead today (Thursday 12 October 2017). 
The Police Memorial Trust unveiled a national tribute to the officer, who died in Wallasey while attempting to stop a stolen car in the early hours of 5 October 2015.

PC Phillips is the 42nd officer killed in the line of duty who has been honoured with a memorial since the formation of the Trust in 1984.

The service was attended by PC Phillips's family, friends and many of his Merseyside Police colleagues.

The event was also attended by Prime Minister Theresa May, the Mayor of Wirral Councillor Ann McLachlan, and local MPs Alison McGovern, Frank Field and Angela Eagle. A large screen in Hamilton Square also enabled members of the public gathered outside to view the proceedings.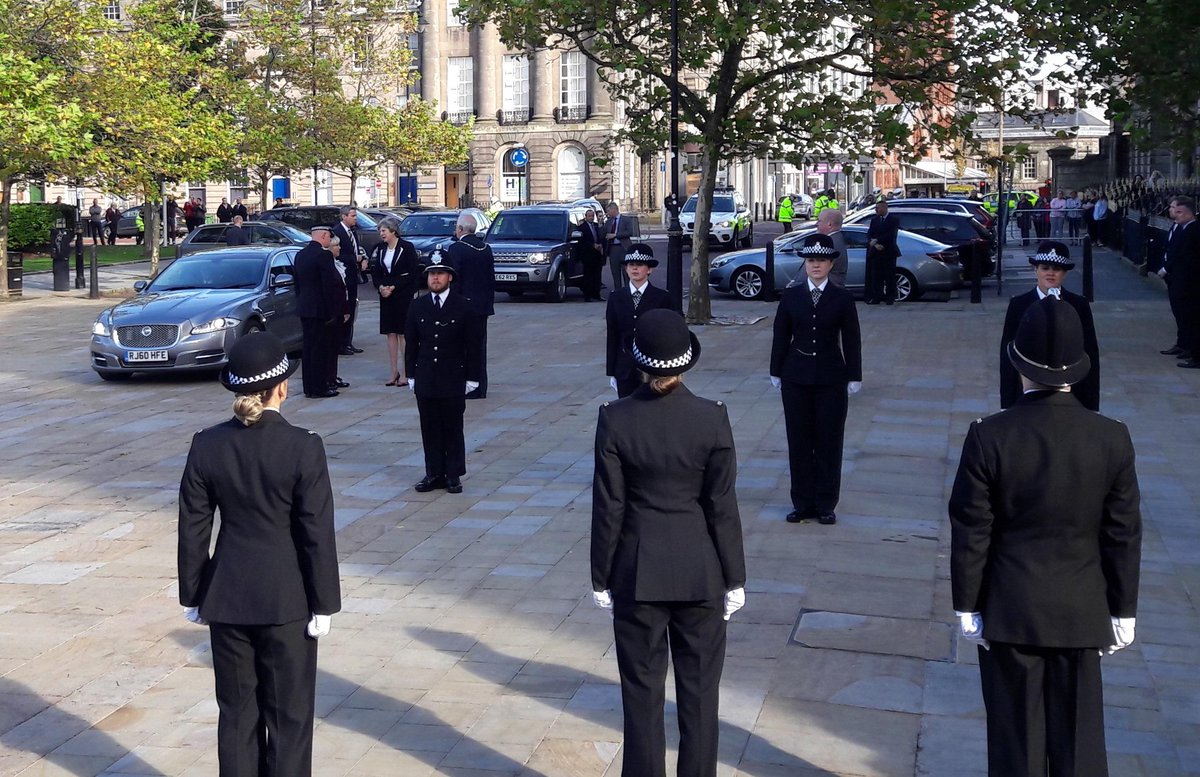 The Merseyside Police Band played a programme of specially selected music before speeches were given by Chair of the Police Memorial Trust (PMT) Geraldine Winner, Merseyside Police Chief Constable Andy Cooke and the Prime Minister Theresa May MP.

The stone memorial, honed from Balmoral granite, was then unveiled before a reception was held at Birkenhead Town Hall.

Andy Cooke, Chief Constable of Merseyside Police said: "I hope this memorial will ensure PC Dave Phillips's legacy lives on, as an officer who was the ultimate professional and committed to keeping the communities of the Wirral safe.

"Dave represented everything that people want from their police service, and everyone at Merseyside Police is extremely proud to say that he was one of us.

"I would like to thank The Police Memorial Trust on behalf of Merseyside Police, Dave's colleagues and friends, and the public he served for this wonderful memorial and I would also wish to thank Geraldine Winner and her colleagues for continuing the great work Michael started all those years ago."

Mrs Geraldine Winner, Chair of The Police Memorial Trust said: "I am extremely proud to be here in Birkenhead on Merseyside to unveil the Trust's 42nd memorial to a fallen police hero.

"PC Phillips was a local officer serving his local community when he was killed in a heartless criminal act.

"He was cruelly taken from his loving wife and family whilst doing his job, a job he loved.

"I hope this tribute, set as it is in the beautiful landscape of Hamilton Gardens, will bring some comfort to his loving family."

Sergeant Pete Singleton, Chair of Merseyside Police Federation said: "Dave Phillips was killed protecting the people he swore to serve, attempting to stop a dangerously driven stolen vehicle.

"This memorial is important not only for his family, friends and the wider Police family but also for the public of Wirral.

"The memorial will be a focal point for the police and people of Wirral and Merseyside to remember Dave's bravery.

"It is a tangible way to recognise Dave's service and sacrifice. His bravery will never be forgotten."